AFK Chat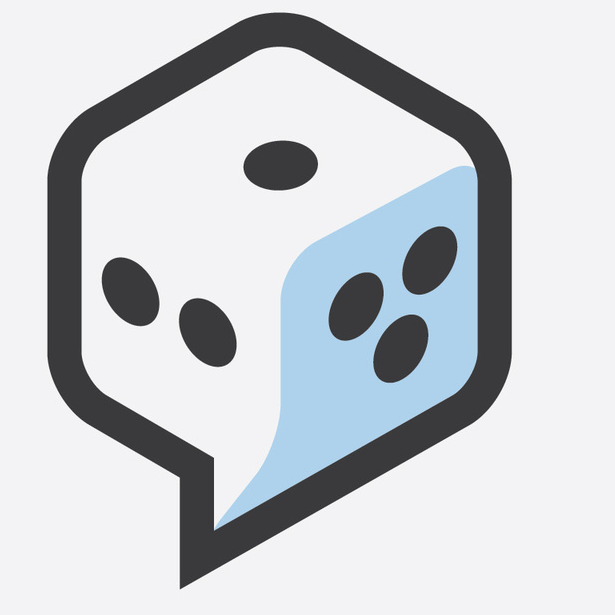 "I sincerely hope you weren't expecting a response. Because I'm not talking to you." - GLaDOS
---
This addon will randomly say things from a list of phrases you choose.
It is intended to reduce your chances of getting reported/suspended for botting in PvP or other game modes.
More information is available on the Wiki.
http://wiki.mmominion.com/doku.php?id=AFKChat
---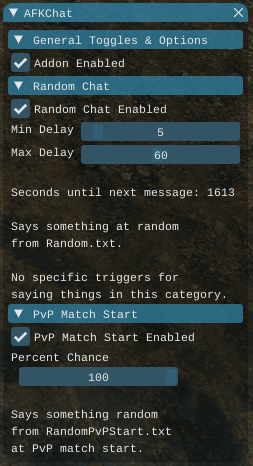 FREQUENTLY ASKED QUESTIONS
Q) I don't see it saying anything. Why not?
A) Make sure you've enabled the addon under the "Toggles and General Options", as well as in any sub-sections you want it talking in.
Q) Where are the "phrase files"?
A) The files are in the same folder as the addon.  (e.g. C:\MINIONAPP\Bots\GW2Minion64\LuaMods\AFKChat)
Q) How can I edit the phrase files?
A) Double click them to open in Notepad. Add up to 1000 phrases of your choice. AFKChat will choose randomly among them when saying something.
Q) What does each phrase file do?
A) Random phrases are chosen from the files. They correspond to the following events.
Random.txt - This file contains the completely random things AFKChat can /say with no specific triggers.

RandomPvPStart.txt - This file contains the random things AFKChat can say at the start of PvP matches.

Q) I edited the phrase files, so why is it still saying the same things?
A) Reload LUA after editing and saving your phrase files. (CTRL+L or MMOMinion –> Reload LUA)
Q) Does AFKChat only use the /say channel?
A) It uses /say for the completely random chat, or /team for PvP Match Start.
FEATURE REQUESTS
1) Say something random when the player is downed.
2) Say something random after a kill.
<Your feature requests here.>
BUGS & BY-DESIGN ISSUES
<Reported bugs here>
UPDATES
10/07/2019
10/08/2019
Added random delay before saying anything at the start of PvP matches.

Updated Wiki with an updated screenshot of the user interface and instructions to edit the "phrase files".

Patched a bug that caused some red error spam in the console.

10/12/2019
Made the delay before saying something at the start of PvP Matches configurable.

Added buttons to easily edit Phrase Files and then Reload LUA after editing.

Fixed a bug that caused the addon window to always display.

Communication
Feel free to ping me on Discord, forum private message or by responding to this thread.
The views/opinions expressed in this post are my own and do not reflect the official policy/position of MMOMinion or its affiliates.